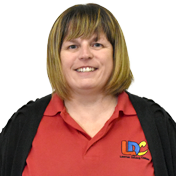 About me
Hi I'm Jackie and welcome to my website.
I am a fully qualified Government Approved Driving Instructor (ADI). I have completed my instructor training through LDC, and am fully trained in using the LDC system. If you are looking for driving lessons in Leek and Cheddleton and surrounding areas, then please feel free to get in touch with me.
I live in Leek with my husband John and our two dogs Molly (The Polish Lowland Sheepdog) & Ralph (The Cocker Spaniel). My interests include horses & motorbikes, there is nothing better on a Sunday afternoon than riding up through the famous roads of 'The Cat & Fiddle' on our motorbikes, topped off with a lovely ice cream at sunny Matlock Bath.
Before becoming a driving instructor I worked in the health & leisure industry which involved training people on a one to one basis, from 16yrs-80yrs+ and think this is when I realised that teaching and training people is what I wanted to do and the joy of seeing people reach their goals is just amazing and so rewarding.
I became a driving instructor because I wanted a job with real satisfaction and there is nothing better than seeing someone pass their test first time. I also enjoy training and want to contribute to the safe drivers of the future by not just getting them to pass their driving test but also to be a safe driver for a lifetime. I was also always being told by friends and work colleagues that I was a calm and relaxed type of person and that I would make a great Driving Instructor.
I was fortunate to be trained by LDC in the latest adult coaching and training techniques so you can be assured the training I give will be of the highest standard.
I chose to work with LDC because everybody is different and the LD System allows for flexibility in lessons so that you learn to drive safely at a rate that suits you. I aim to make every lesson enjoyable and as productive as possible. The LD System just helps me to do this more effectively.
Lessons are always conducted in a calm, friendly and relaxed manner as I firmly believe in making pupils feel at ease during lessons.
Well I hope this gives you a brief idea about me so please feel free to click here to "Contact me"
Call today on 07925 257393 or Email me to find out more
If you have any questions or to book lessons today, feel free to contact me