Testimonials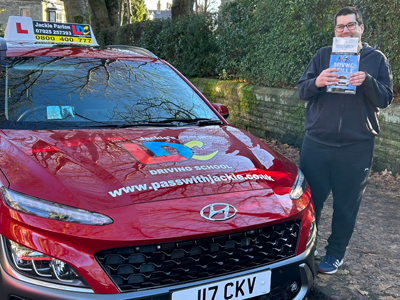 Anthony Ball
Passed 1st Time!!
My instructor has been an absolute saint and has been so patient. I am an anxiety sufferer and with this added nuisance Jackie has shown plenty of kindness, caringness & helpfulness and along side Test Buddy my driving anxiety has been greatly reduced. The LDC workbook and it's exercises and diagrams have been ever so useful as well for those tips to help make the drive safe. Before obtaining my theory, the hub on offer from LDC couldn't be better and helped ensure a first time pass.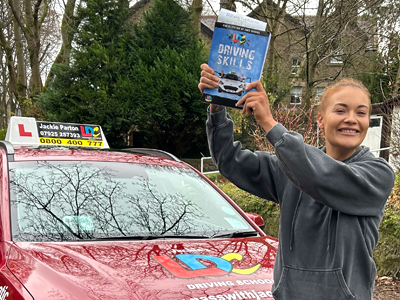 Kirsty Lea
Passed 1st Time!!
I think it went really good. Jackie helped me with everything! The LDC Workbook I was given helped a lot. There isn't anything Jackie didn't teach me. Thank You.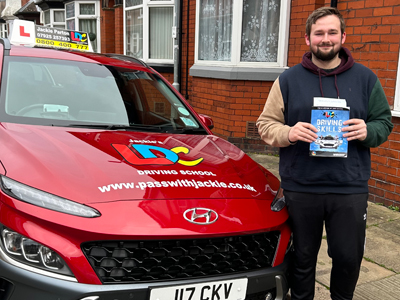 Ryan Thorley
Passed 1st Time!!
Jackie has been an absolutely incredible instructor and I would recommend her to anybody, no matter the level of experience. Throughout the whole experience she has been very supportive, very thorough and very friendly. The LD system has been a very helpful reference which I have used before and after each lesson and it also helped a lot when it came to test prep. Thank you so much Jackie! 😊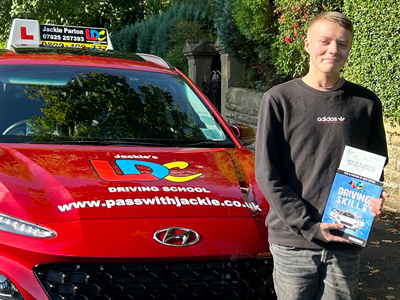 Max Critchlow
Passed 1st Time!!
Jackie was a very supportive and helpful instructor, always willing to accommodate for any needs every lesson. Having a set plan to improve and fix mistakes helped make me more confident and aware for my test. Would definitely recommend to others.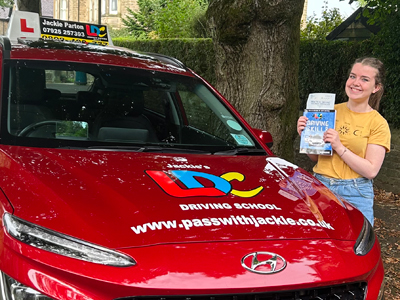 Isabelle Hilton
I'm a safer Driver!
I think my lessons have been extremely helpful, especially when it came to helping me to become a safer driver + to pass my test. When I didn't pass 1st time Jackie was very helpful when finding a new test date & also providing resources to keep my nerves to a minimum on test day. I highly recommend Jackie to anyone learning to drive.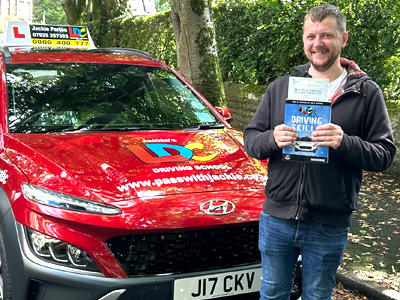 David Taylor-Cairns
Great drive!!
Jackie is an amazing teacher always willing to go the extra mile to help her students. She never gave up on me and now I have passed. We used the workbook & different learning methods to help with anxious drivers like myself. I am very grateful to Jackie for everything. Thank you.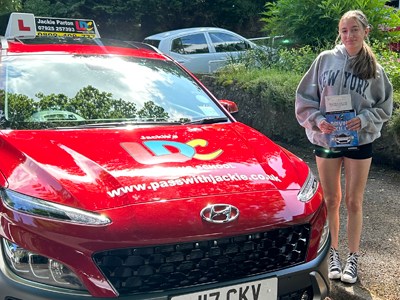 Lauren Colley
Very professional but friendly!
I think Jackie is a great driving instructor. She is very professional but friendly at the same time. She is very thorough & makes sure everything is done well before the test, even if that means it could get pushed back - but that works well. Personally I did not like the writing factor in the book because I would forget to do it or accidentally leave it places. However the information in it was useful, especially at the start where all the knowledge was new. The test prep & mock tests worked well.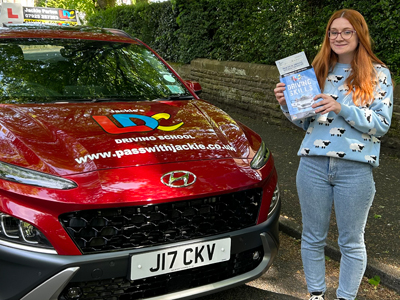 Millie Potter
Brilliant, patient instructor
Jackie has been a brilliant instructor, very patient and understanding. The LDC workbook has been a great help. I have found it very useful while learning to drive. The quizzes were a big help when learning show me tell me questions. I would recommend Jackie to anyone wanting a lovely, patient instructor!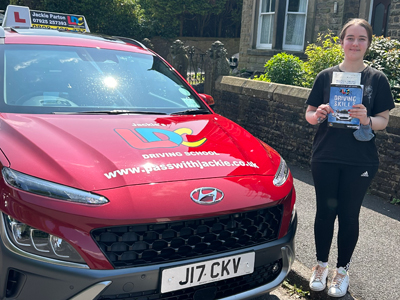 Sophie Moore
Passed 1st Time!!
Jackie is very patient and makes you feel comfortable when learning to drive. The LDC workbook helped me throughout my lessons as we were able to talk about what went well and what I can improve on. Highly recommend.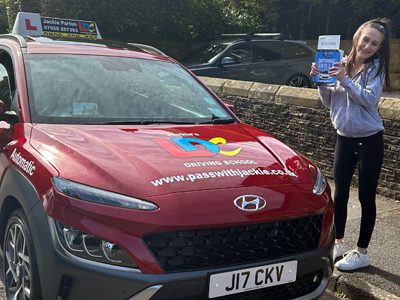 Beau Hitchins
1st Time Pass!
The LDC workbook helped me understand driving more and what methods I should use for driving. Jackie helped me to gain confidence when I was driving. She was very patient and welcoming and made me feel very calm and comfortable while driving.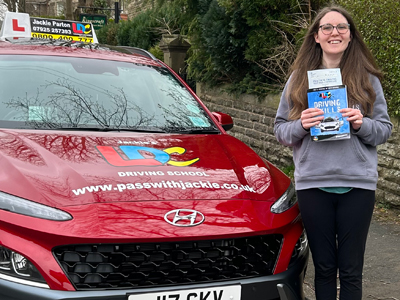 Katie Wallis
Brilliant drive!
Jackie was a brilliant instructor. She helped me to be a safe driver. When I didn't do something right we pulled over to speak about it and went over any additional information needed. When I started I was nervous but with Jackie she made me a safe and confident driver.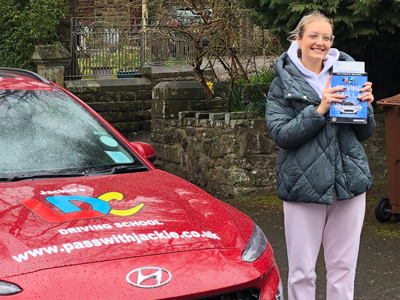 Zuzanna Kaciniel
Great Drive!
Jackie was professional and reassuring from the start. After transferring from another instructor Jackie prepared me well and quickly for my test. Would highly recommend. Thank you so much.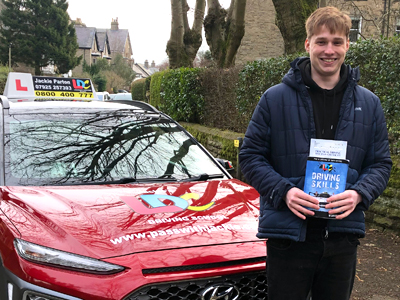 Alex Bartholomew
Passed 1st Time!!
Jackie was very helpful and supportive which helped me stay calm when driving. She is also very good at helping me find reference points for manoeuvres + She is also very good at helping me remember to do my checks when pulling off and turning and indicating. She also gave me a LDC workbook which helped me remember things and drive safely.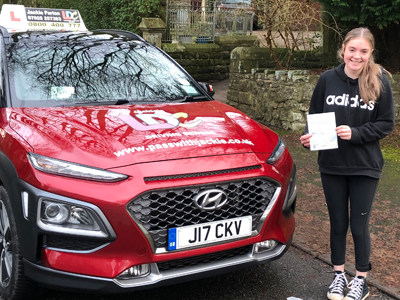 Freya Hughes
Great drive commented the examiner!
I have really enjoyed my lessons. Jackie has given me a lot of confidence in my driving and helped me gain good experience on the road. The LDC workbook was a great help to keep track of my driving progress and with the 'tell me' questions.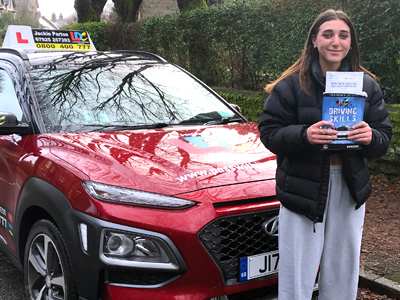 Olivia Plant
Great drive!
Jackie has been an amazing instructor. We have covered everything I need to know for the driving test and in general driving use. She has been very patient and always gives praise. Jackie is very knowledgeable and never fails to explain faults in my driving and helps me correct them. I wouldn't have passed without her.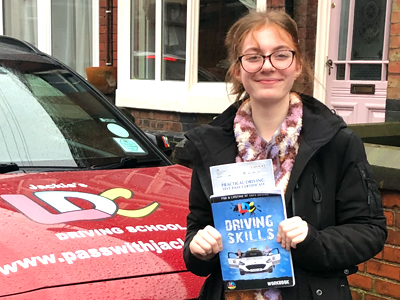 Lauren Wilkes
Passed 1st Time!!
I think Jackie is really good. She really helped when I struggled with certain aspects of driving. Also Jackie helped with my learning of things and she helped with my confidence. Using the LDC workbook provided did help with my practical questions overall. Jackie is a great instructor who is amazing at teaching, will help you when needed, and will have you feel more confident about driving.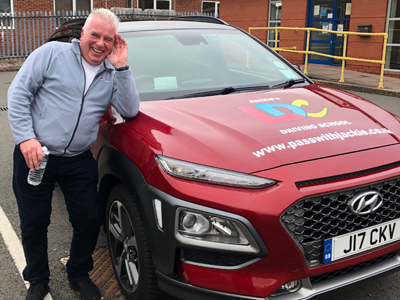 Mark Parr
Passed Instructors Part 2 Test 1st Time!!
At the start of my 1st training session I asked Jackie to asses my planning skills & knowledge. Knowing my driving wasn't to an LDC standard I asked Jackie to look and asses any faults, so we could rectify and iron out any bad habits and start me on the path to become an ADI. The training sessions have been very helpful in me gaining the knowledge and skills to help me to become a better driver for myself and hopefully to help others in the future. Jackie has been a great trainer for me in my learning about what LDC are achieving and their reputation to teach learners to become qualified drivers. KEEP UP THE GOOD WORK JACKIE
Alex Dawes
Passed part 2 instructor training 1st time!
I've really enjoyed completing my part 2 training with Jackie. Throughout the training, she has taken on board my needs and listened to my ideas on how I could develop my own skills towards becoming a driving instructor. She identified areas for me to work on, and through the support of the online materials and LDC workbook I was able to make substantial progress in passing my test first time.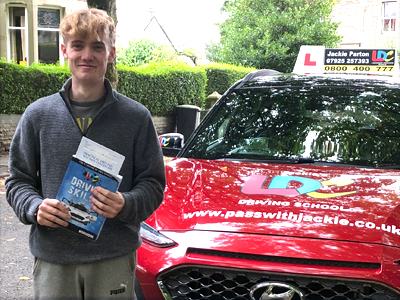 Brandon Mottram
Passed 1st Time!!
Very well organised, plans and works around the students. LDC workbook with all relevant information and lesson by lesson feedback. Great way of remembering things and good methods for moving forward and improving. All round nice person 😊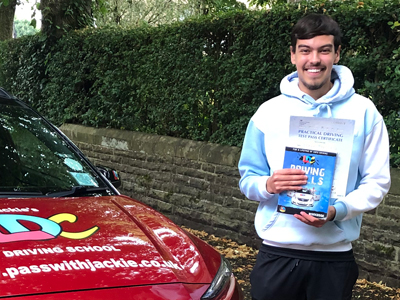 Bruce Ainslie
Passed 1st Time!!
Calm instructor - helps you to tackle problems by coming up with methods to help you drive smoother. This helps you as an individual to progress quickly and ensures that you don't make mistakes again going forward. Uses a variety of learning technics - visual, audio, reading and trying allows you to chose which one works best for you. This allows you to learn better and progress faster.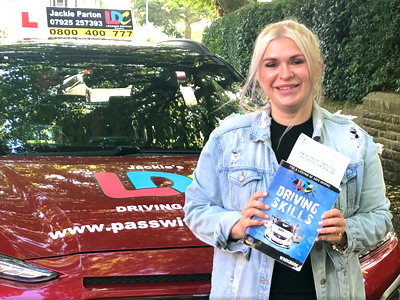 Mollie Clowes
Great pass!
Jackie has been absolutely brilliant. She has remained consistent & knowledgable throughout my student journey. Jackie is as perfectionist - she will make sure you do everything safely and confidently to ensure you are ready for test. Jackie has the ability to make you feel happy and comfortable on every lesson. She will always go the extra mile. I am so happy I chose Jackie as my instructor! The LDC system allows you to recap on everything you have done on your lesson. It is very easy to use. A great halo when getting ready for theory or practical test.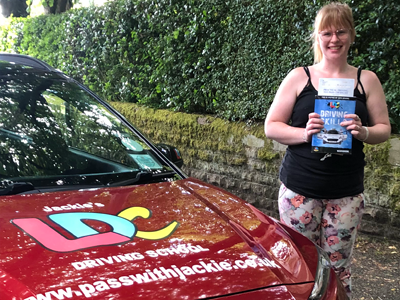 Laura Mace
Passed 1'st Time!!
Jackie is very professional and thorough. She has got me from never getting behind the wheel of a car to a high test standard, with a first time pass. The LDC online login for the learning materials is very helpful between lessons and for the theory test preparation to a high standard too. I liked the workbook to reflect after each lesson and to have an aim for next lesson. Highly recommended Jackie LDC.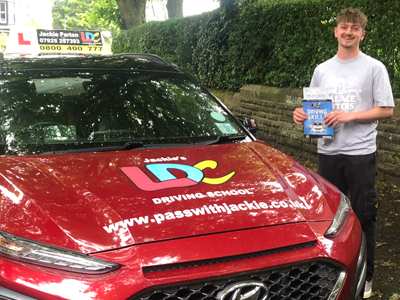 Alfie Amos
Great drive!!
Jackie is a polite, attentive driving instructor with nothing but the best intentions for her students. I have been learning to drive with Jackie for a little over 6 months and she has ensured that I would pass despite any set backs.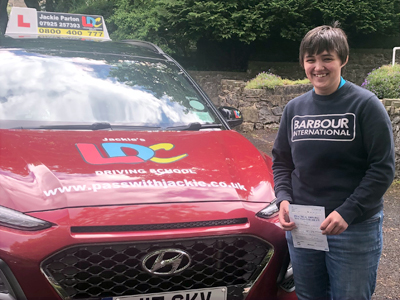 Abby Chadwick
Examiners comments 'Brilliant Drive'
Really good methods of teaching, helpful with building confidence and finding ways to understand when your struggling. I would recommend to everyone 😊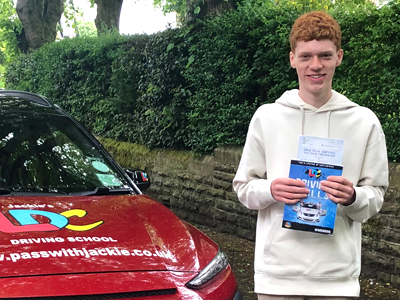 Lewis Hancock
Passed 1st Time!!
The structure of the lessons combined with the LDC workbook helped me learn efficiently and confidently. It allowed me to understand my strengths, weaknesses and what I needed to improve on for the next lesson. Both the structure of the workbook and lessons worked out to make an efficient work flow. The independence and trust the instructor gives is very useful but you are also never left too independent until you get more confidence and I find the balance of independent and support have been very important to become confident and ready for the practical test.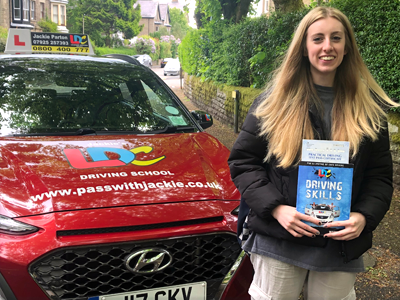 Imogen Bradeley
Passed 1st Time!!
As an instructor Jackie has been very helpful and informative, as well as being friendly and easy to get along with. The use of the LDC workbook to reflect on lessons has been a huge help in highlighting what I needed to work on the next lesson. By reflecting on lessons when we finished, I can also acknowledge what I did well on that lesson, and what needs more work. Overall Jackie's methods of teaching are highly efficient and helped me pass 1st time.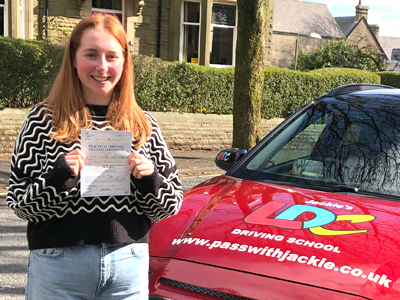 Vicky Badger
Lovely Drive Vicky commented the Examiner!
Jackie overall was a brilliant instructor, her explanations were simplified to help you fully understand what you were learning. Longer lessons really helped too before test, she made sure that you were fully prepared for all scenarios of driving, she remained calm throughout difficult situations which really helped to keep me calm and concentrated. The LDC workbook allowed me to visualise different manoeuvres, I was able to keep track of my progress through the lesson log. Overall, Jackie made my experience of learning to drive a positive one which I am extremely grateful for.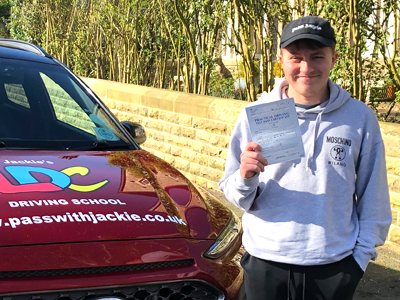 Ethan Parr
Passed 1st Time!!
The LDC workbook was very helpful, especially during the first few lessons as it gives you an idea of the different manoeuvres you will need to learn. My instructors method of learning was perfect for me as it highlighted my many faults allowing me to improve to become a complete driver. The preparation for my test included many mock tests, which gave me a good idea of how proficient I was at driving until I was ready to take my test. Overall mixed with my instructors ability to teach the resources were great and I would recommend my instructor to anyone looking to become a learner.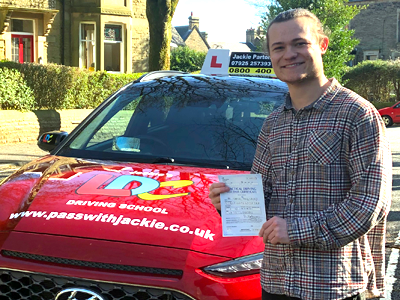 Samuel Poole Sidley
Great drive!
I thought the LDC way very helpful and gave me confidence. Writing in the LDC workbook helped me to see the things that I am good at, helping me to focus on the positives rather than just the negatives. Jackie was a good, helpful instructor. She helped me with my confidence and allowed me to get rid of my issues within a very short amount of time. I know feel like I am a much more knowledgeable and safe driver because of Jackie and the LDC workbook.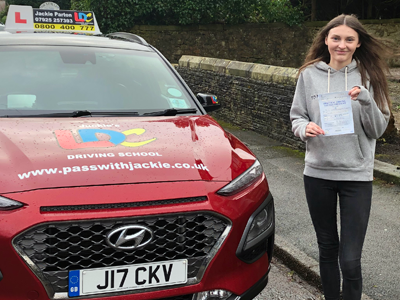 Cody Roberts
Examiners comments - Great Drive!
The lessons have been really great and very helpful. I have learned a lot and wouldn't of passed without them. Also the LDC workbook and talk about the lessons before and after helped a lot too.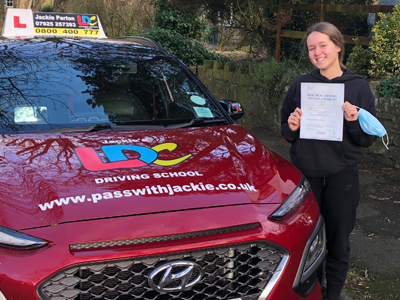 Lilly Kirk
Passed 1st Time!!
The LDC Workbook is very useful, helped me to know where I'm at and lesson plans. Jackie is really good instructor, lessons planned out well and really helpful. 2 hour lessons way better, allows me to get more practice in. Overall really good 😊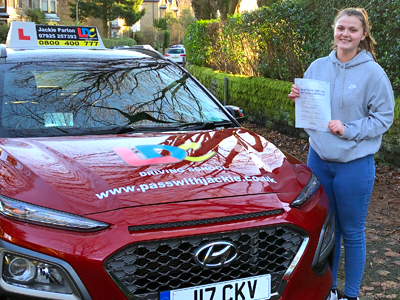 Lucy Fern
Passed 1st Time!!
Jackie is a good instructor helping to not only improve your driving but also confidence. By using the LD workbook and writing down previous lessons it helped me to see what I needed to improve on, Jackie then focused on these areas and took time to improve them. It was very helpful to get the choice of learning style as I can't learn by just listening. I found this very helpful.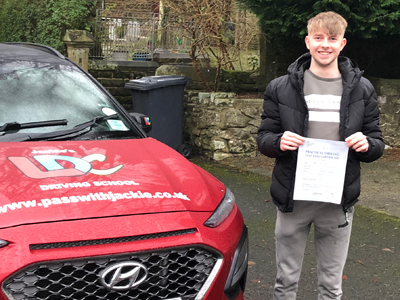 Harry Launders
Pass with only 23hrs of lessons!
Jackie is a superb driving instructor which is a guaranteed pass if listened to properly, given the right attitude and commitment!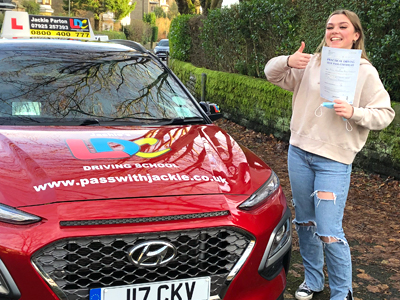 Kristina Swancott
Passed 1st Time!!
All was great, loved how you only go to test when you're 100% ready. Book was very useful give you tips on test and a review on the lesson, also what you have to do. Even with covid was dealt with great. Very organised and structured, throughout all.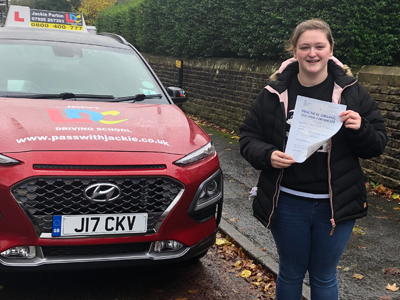 Chloe Arnold
1st Time Pass!!
Jackie was amazing. She did everything she could to get me to test. Between Jackie and the LDC workbook & videos I was confident in my driving for test even with all the added complications from covid.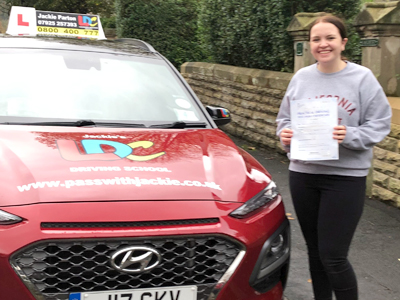 Daisy Machin
Passed 1st time!!
I think Jackie was a brilliant instructor who made me feel very calm and confident when I was driving. When I did make mistakes we would stop, go through what happened calmly and fix it which was very effective. The LDC workbook helped in showing clearly what I had done so far and what I still needed to learn/improve making planning and assessing my current and past performance easy. I don't think I could have learnt/passed as quickly and effectively as I did without Jackie. The online theory test preparation resources also played a massive part in helping me pass my driving theory 1st time too.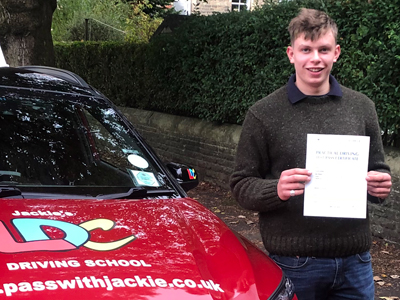 Merlin Brown
Brilliant Drive!
Very good driving instructor Very good and easy when explaining about problem areas Jackie is always able to help & explain and expand while on/off the move Highly recommended!!! And easy to learn from.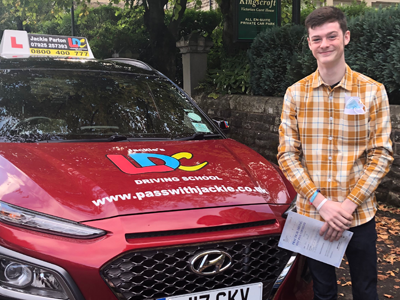 Rory Baker
ZERO fault pass!!!
The lessons were good and helpful. I came off lessons always understanding what went well and where improvements had to be made. I found the help I received and the instructions helped me to improve my overall driving. I passed with zero marks and I was pleasantly surprised with the results of my test thanks to Jackie.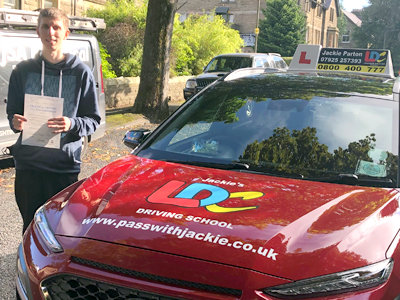 Jonathan Burkitt
Passed 1st Time!!
I have had a number of instructors over the last number of years this is due to not having booked a test, but out of the four Jackie has been by far the best at explaining and motivating. Jackie is a proper driving instructor, she picks up on the small things too which makes one a better driver. If you have the opportunity to choose an instructor around Leek Jackie should be your first choice. Thank You 😊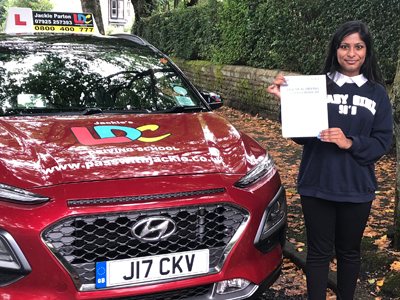 Abarna Rajendran
Passed 1st Time!!
Jackie prepared me well for my test. I think learning method enables students to gain confidence quicker as well as identify weaknesses in order to become an anticipated driver. Jackie gave me the choice of learning methods, which were particularly helpful with manoeuvres when I asked for usual practice. The LD workbook also enabled me to be more aware of my mistakes. It was useful to look at the workbook before my lesson so I can tailor my lesson to work on my mistakes.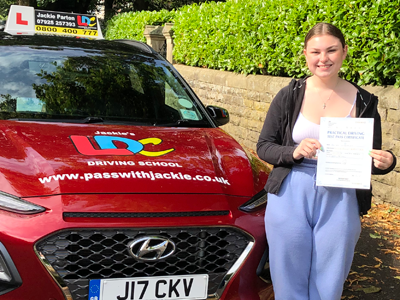 Aimee Woodfint
Passed 1st Time!!
Jackie is an amazing and supportive driving instructor! I can't thank her enough for helping me pass both my theory & driving test. The LDC hub was amazing when I was revising my theory test and the videos improved my practice driving when I first started out. The LDC book improved my knowledge of many things on the roads while learning to drive. Jackie is an incredible driving instructor!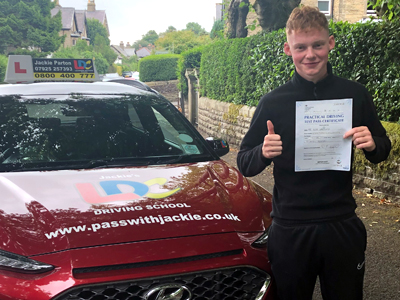 Alfie Hartley
100% recommend
Jackie really helped me with my driving & was always there for my time as had to arrange lessons and test couple of weeks ahead. Very short notice & always tried her best to fit me in as many hours as I needed. Would 100% recommend her to anyone looking to drive.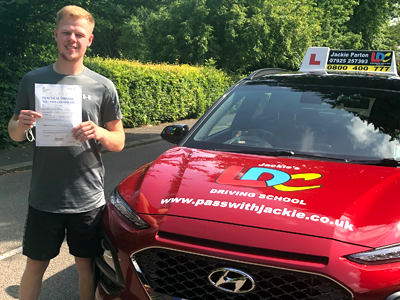 Kieran Owen
Passed 1st Time!
Very kind Very helpful Reliable Just overall brilliant instructor.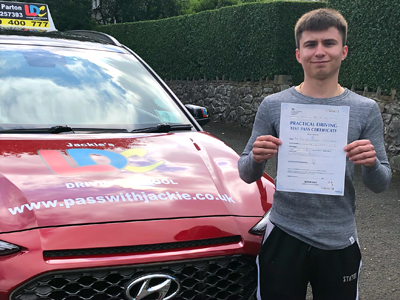 Patryk Kaszubski
Passed 1st Time!!
I have really enjoyed my experience and it has been pleasant to be a student of Jackie's lessons. On the run up to my driving test I have been focused on the weakest topics and without Jackie's help I wouldn't of made it. Thank you so much for helping me remain calm and be focused. I will advise anyone that needs such an amazing instructor as Jackie, once again thank you so much.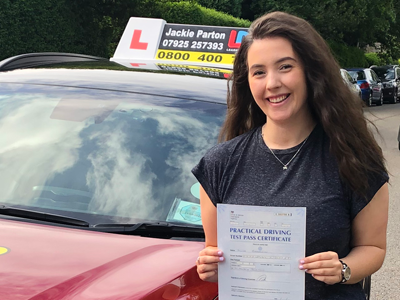 Alice Goodwin
Passed 1st Time!!
Jackie has been an incredible instructor during the duration of my lessons. She has kept me calm and boosted my confidence with driving. Prior to lessons with Jackie I had a large fear of driving which has now gone and I am excited for a life full of driving. The online LD System has been extremely helpful and certainly made a difference to my studying/learning when I was completing my theory test - I couldn't of passed without it especially the mock tests. Jackie's teaching has been extremely thorough, which I feel I couldn't of found anywhere else with any other instructor.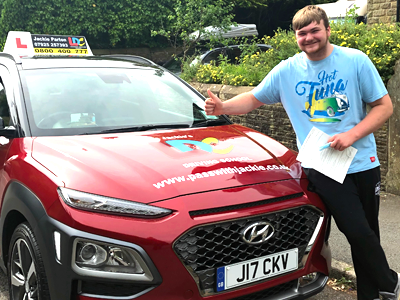 Jay Stanier
Examiners comment 'Lovely Driver'
Jackie was amazing she is firm but fair but did an amazing job. The visual & trying learning methods were spot on I have loved it!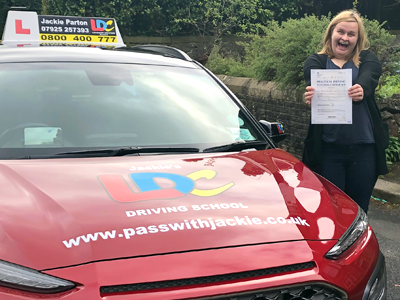 Ayesha Allen
Passed 1st Time!!
Jackie has been an amazing instructor and has helped me so much to become a safe and confident driver. If I had any faults or problem areas Jackie would be reassuring and boost my confidence, also reminding me that I can do it! Thank you 😊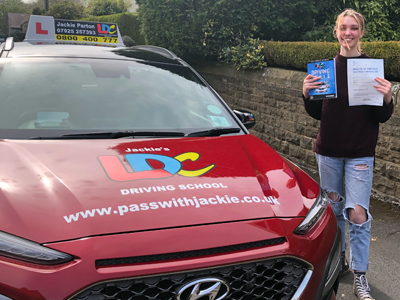 Maggie Gayes
Passed 1st Time!!
Super friendly & helpful instructor 😊 Plenty of resources - LD workbook to keep track of progress & with lesson outlines & Highway Code etc great for between lessons. Website was most helpful for theory practice, especially the hazard perception section. I feel a lot more confident than when I started due to the attitude of my instructor & because of the lesson planning & structure covering a range of situations & allowing the improvement in areas that took longer to pick up 😊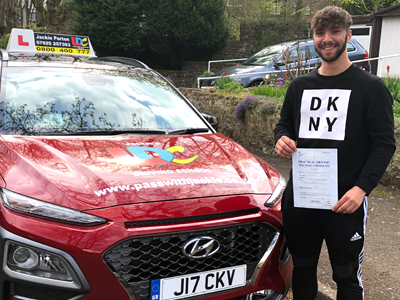 Marcus Dawson
1st Time Pass!!
Personally for me the style of teaching was perfect. I learnt extremely fast and effectively cost worthy. Asking which method to use for learning worked well.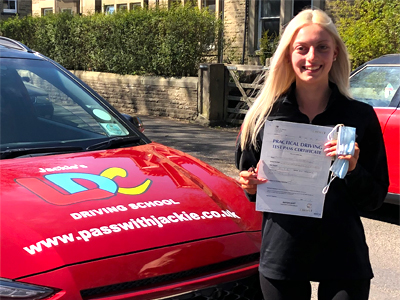 Lottie Waterhouse
100% recommend to anyone!
Overall very professional and organised. The LD workbook was very helpful. Good test preparation (fitting in enough lessons until I was fully confident). Jackie was really good at rebooking tests in the current situation and I was very grateful she managed to bring my test forward. Overall a really good instructor, I would recommend to anyone!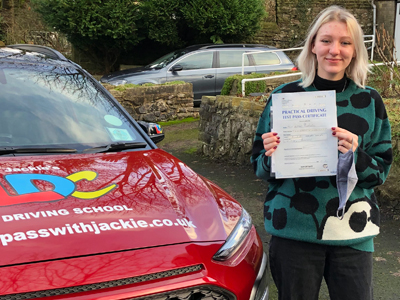 Aeryn Pickford
Passed 1'st time!!
I think Jackie has been an excellent, patient instructor who has helped me gain confidence in my driving ability. The combination of the LDC workbook, videos & theory questions were really helpful for me so that I could go into lessons with base knowledge and work on it practically, and also use them to revise areas I needed to work on & improve. The planning & reflection helped me have control over my lessons and see where I needed to improve. Overall Jackie was a great instructor & the way she teaches helps you to control your own development.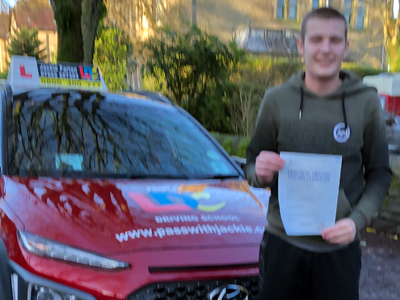 Scott Bagshaw
Passed 1st time!!
Jackie has been a fantastic instructor, very helpful with an extensive driving knowledge. She has been very encouraging and has enabled me to pass my driving test. Jackie provided me lessons that were tailored to my needs after reflection from each lesson. The LDC workbook was very helpful and the plan and review sections helped me to evaluate my progress and set next steps. Jackie kindly arranged lessons around my college course. Jackie has been enthusiastic & patient throughout. Many Thanks.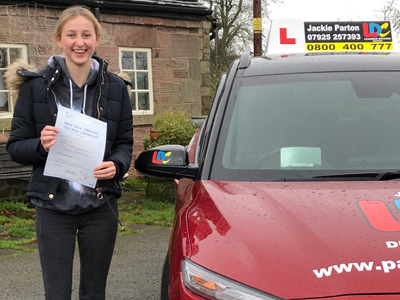 Jasmine White
Passed 1st Time!!
Very helpful & patient. Found the workbook great for revision for show me/tell me questions and for knowing what to work on and know how to improve for lessons Highly recommend!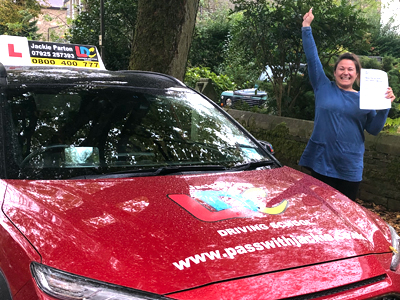 Sarah Ashe
Absolutely Amazing
Absolutely Amazing! From my initial meeting with Jackie to my pass today everything has been exceptional. I've felt supported throughout and have loved the LDC approach to learning. My lessons have always been supported and I enjoyed the planning & reflective way of learning. At times when I have worried Jackie has always reassured me and we've practiced over, which has built my confidence & belief in myself. Having an instructor who understands you as an individual means so much and I cannot thank Jackie enough! Highly recommend and thank you 😊 xxx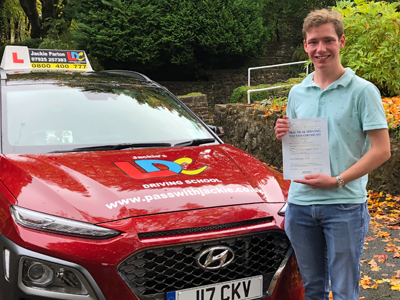 Rowan Hargreaves
Passed 1st Time!!
Instructor: Very good! Helpful, professional, very good teacher! Really enjoyed all lessons! Also friendly and jovial, makes lessons fun and very helpful! LD System: good and helpful. Rigorous and well organised. Workbook very helpful and lesson planning very good.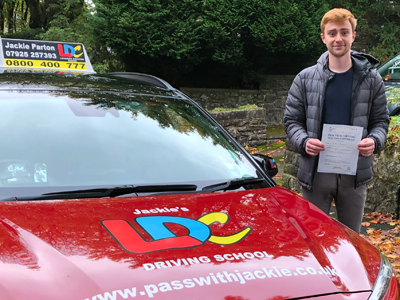 Ryan Freakley
1st Time Pass!!
Very patient teaching, covered everything required at a good manageable pace. The recommended videos online are concise and easy to interpret. I always felt safe when driving, given Jackie's guidance. I would highly recommend Jackie as a driving instructor to anyone.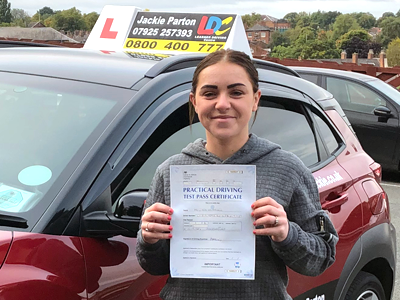 Melissa Kershaw
Passed 1st Time!
All the resources offered to me whilst learning to drive were excellent. Jackie as an instructor was amazing, she was patient, reassuring and calmed my nerves massively. The learning techniques were easy to understand and helped massively. Jackie is a brilliant instructor and an asset to LDC Driving School.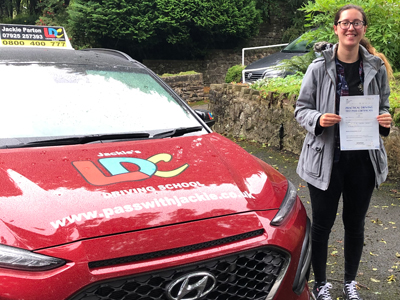 Hannah Goodwin
1st Time Pass
I honestly couldn't have asked for a better instructor, Jackie is great at teaching you how to drive. She gives you time to work out what you've done wrong and let's me figure out what I did , allowing me to learn faster and better. The style of teaching couldn't be any better. The workbook & videos also help a lot when planning lessons and learning road features and rules.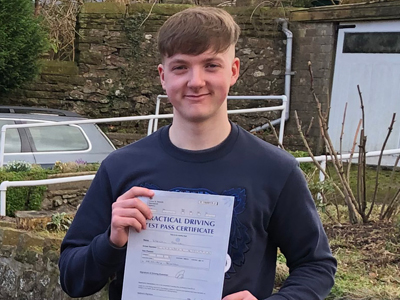 Henry Cordall
Passed 1st Time!
Jackie has been a great instructor helping me pass my test first time! When teaching Jackie helps to ensure that you know how to do whatever your doing in the lesson by giving clear helpful instructions as well as great advise.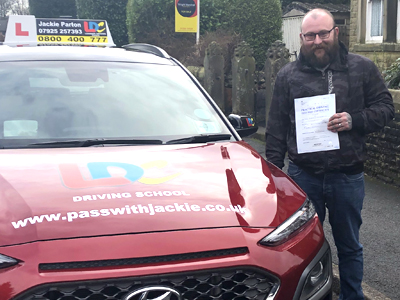 Lee Swarsbrook
Passed 1st Time!!
The workbook has been a good help to get prepared for lessons. I liked being able to plan my own lessons and talk it through before we moved off to try it. Jackie is nice and calm and always explained things clearly to me. She is patient and made things easy to understand.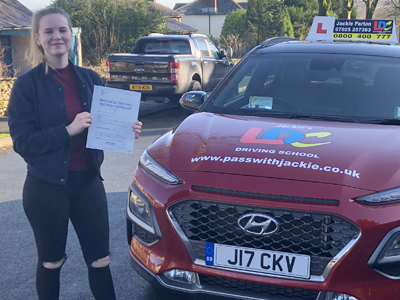 Abbie Mellin
Passed 1st Time!
My driving instructor was amazing and helped me pass 1st time! She always was attentive and would never hesitate to fit me in for extra help when needed. The LDC Workbook really helped me to find my faults and correct them. I would highly recommend Jackie to anyone who wants to learn to drive and pass 1st time.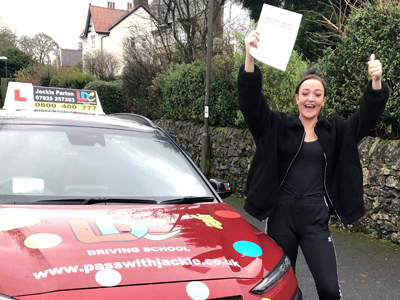 Megan Eyre
Passed 1st time!
Jackie is an amazing instructor, she made me feel at ease instantly and also never let anything slip allowing me to be the best driver possible! The workbook method was also very good in terms of a revision guide and resource booklet, it has everything in terms of driving skills and theory prep. Thank you Jackie you are the best. 😃❤️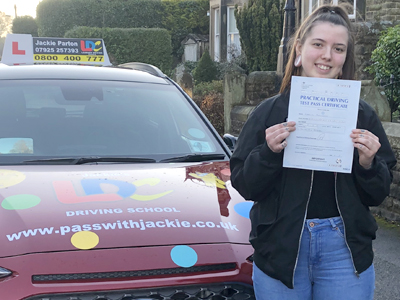 Carly Edwards
Passed 1'st Time!!
Jackie has been brilliant with me during my lessons and has been very patient & supportive. She's a fantastic instructor and I couldn't have done it without her. She's made me feel very comfortable and really helped me work n my confidence. Can't thank her enough.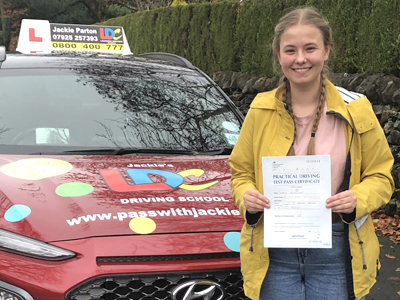 Keely Blanchard
Passed 1st time with only 35hrs of lessons!
Workbook was very useful, videos were good too. Jackie was a fantastic Instructor, I'm very glad I learnt with her. It was useful having the workbook as it meant I got to spend a larger portion of my lessons driving, which was particularly useful as I did a semi-intensive course. The lessons were well structured and I felt very confident going into test. I'm grateful to Jackie for the excellent instruction, thank you!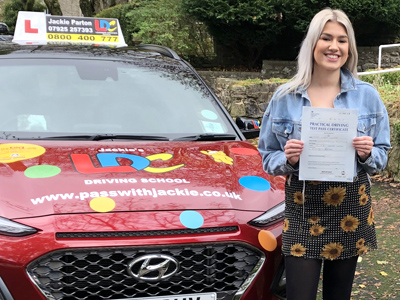 Libby Cooper
'Pass was never in doubt' said the examiner!
Jackie was amazing! Always kept me calm and very patient. I found the workbook very helpful and will continue using it even now I've passed to help with dual carriageways & motorways, as well as the videos. The online hub was essential for passing my theory. Thank you Jackie! Could not of asked for a better instructor.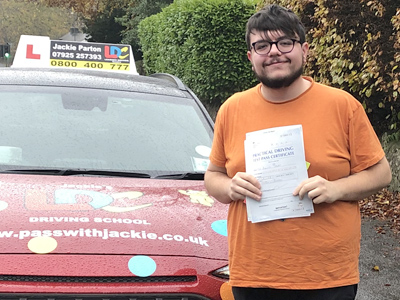 Daniel Emery
Examiner said what a great driver!
Absolutely amazing, calm, patient and gave me so much confidence and a 1 minor pass!! Couldn't recommend her more and deserves so much praise. I will recommend her to all my friends and family.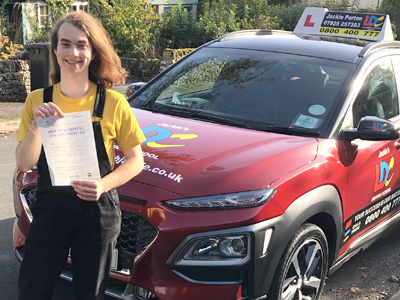 Gus Beech
Great Drive Commented the Examiner
I am more than happy with my experience driving with the LDC System. It allowed me to reflect on my past mistakes in order to improve every week which enabled me to become more confident as I learned to drive. I found the quizzes and theory and driving test prep to be helpful throughout my experience with LDC. My instructor Jackie is very professional and challenges me every lesson to always plan ahead which has improved my confidence and quality of driving.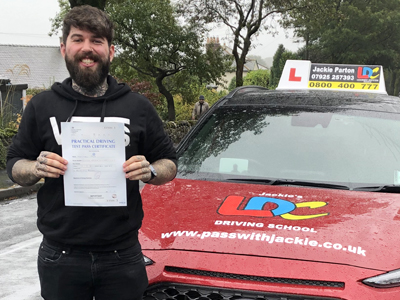 Matt Done
Passed 1st Time with only 25hrs of lessons!
I cannot give Jackie enough credit for her patience and kindness, she has always believed I could do it even when I had doubts. 100% could not recommend LDC and Jackie enough. The workbook helped so much and was handy to flip through. All in all absolutely brilliant company and person. Thank you for everything, Matt.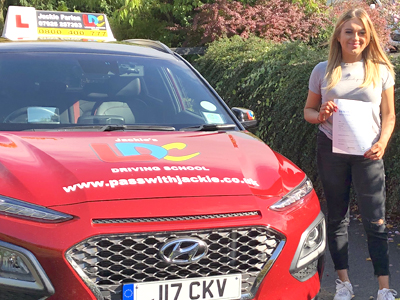 Aimee Ireland
Passed 1st Time!!
Jackie was such a brilliant instructor, from the 1'st lesson to the last one, she put me at ease and gave me confidence. Every lesson I came away with so much more knowledge and felt I was always making progress. I thought the reviews with the driving skills booklet at the beginning and end of each lesson helped, and writing in the diary aided me to remember my faults/improvements from the previous lesson. I would highly recommend LDC and especially Jackie! Wouldn't have been able to do it without her! Thank you so much Jac!!!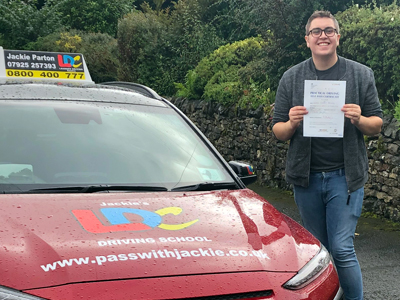 George Machin
Examiner commented on what a great drive
Jackie always worked to make sure I was calm & felt comfortable driving at all times. Her learning methods were easy to understand and her instructions were clear, and I never felt silly asking questions unlike with previous instructors. I'll definitely be recommending LDC & Jackie to friends & family.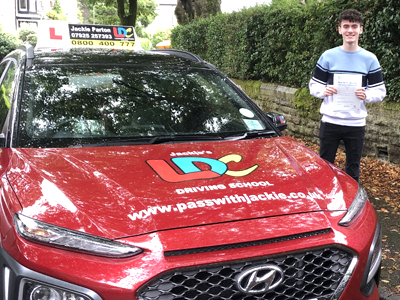 Lewis Colley
1st Time Pass!!
I think the method Jackie uses and the information LDC provides in the book are easy to understand and very helpful. Lessons are also very enjoyable and quite relaxed, which certainly minimises stress, kept my attitude positive and allowed me to get to test standard much faster.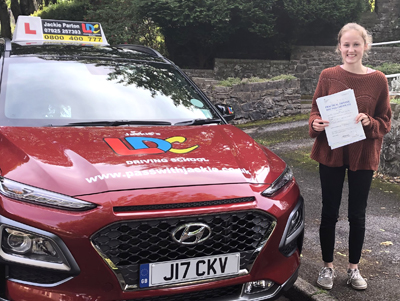 Ellie White
'Great Drive' said the examiner
I was very pleased with my driving instructor and LDC system. The book was very helpful for making progress and everything was explained very well. My instructor was always very nice & made me feel comfortable. She also made sure I understood everything which was very helpful.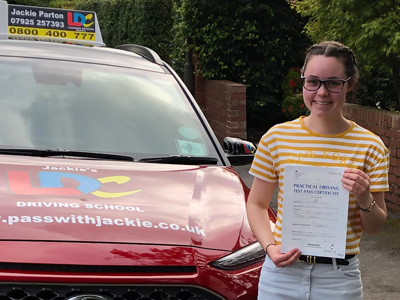 Ella Owen
My Instructor was so helpful
I like the use of the workbook, reflecting after each lesson on what I did in the lesson & things I need to improve on. The LDC Theory Test resources were extremely helpful & helped to secure my understanding of the theory test material. My instructor was so helpful, talking through things I could have improved on & how I could have done things differently, which helped my understanding of the topic.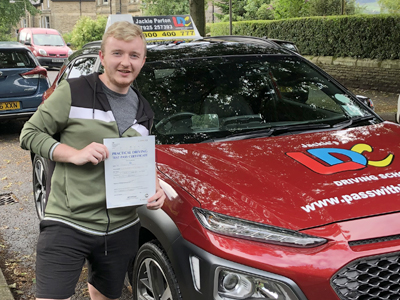 Charlie Cook
1st Time Pass!!
After numerous lessons over the last few years, I finally found the right support with not only my amazing instructor, Jackie, but also the great LDC videos on YouTube. With Jackie's fantastic support and patience I was able to pass my test 1st time. My lessons with LDC were spot on and I can't recommend them enough. Get booked in!!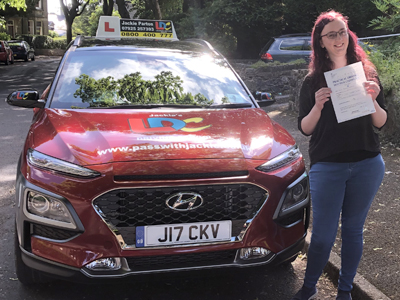 Rachel Warner
Jackie has been an amazing Instructor!
Jackie has been an amazing instructor. She has been patient and always took things at my pace. She has made me feel confident even when at some points I was nervous, and I would recommend her to anyone. The LDC system is a very useful way of reflecting on your progress and deciding where to go next and the book is very helpful.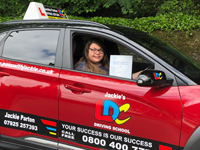 Faye Newman
Happy & Safe Driving Future
Jackie has not only provided me with the skills to pass my test with only 3 minors but she has given me the emotional support to continue learning when my nerves got the better of me. Using the workbook helped me feel more in control of my learning and really work on areas I felt less confident. These combined have given me the ability to not only pass but to have a happy and safe driving future.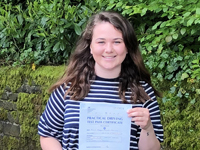 Megan Smith
Passed 1st Time!!
Jackie is an amazing instructor. She was always very patient and calm if I made mistakes, showed me how to correct them. She made sure I was fully prepared to do my theory test and gave me resources to help me get prepared for it. Jackie also made sure I felt confident with everything for my driving test and went over things I was unsure of. I would recommend jackie as an instructor to anyone.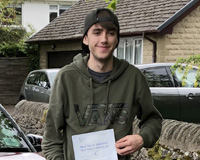 Will Crombie
Great Drive!
From the beginning I never thought I'd be able to drive, but as time went on with my lessons I realised that I could actually do it! I used the LDC YouTube videos for lesson topics to help me prepare for my lessons so that I knew what to expect. Jackie was always on time for my lessons, I would recommend her to my friends.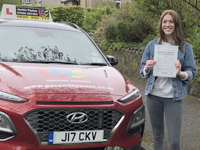 Lucy Hancock
Passed 1st time!!
I think the lessons with my instructor went really well and made me feel really confident when going into test. The workbook helped me see my strengths but also areas that I needed to work on in order to get to test standard. The theory test preparation resources made me feel prepared and confident to take the test with no worries. Jackie has been an amazing instructor and has made driving lessons fun and stress free!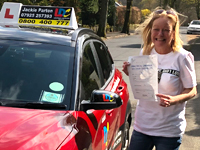 Jo Simpson
Believe you CAN pass!
Jackie has been amazing, her patience and understanding is second to none. When I had no faith in myself Jackie never lost it, seeing me finally through a pass. Thank you Jackie, your a credit to LDC 😀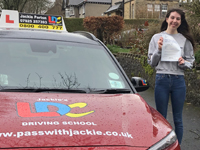 Isobel Mellor
Passed 1st Time 'in Storm Gareth'
Jackie is extremely good and is very thorough in teaching each topic. The workbook is good and helps me understand generally what to do before the lesson. The preparation for the theory test online helped me a lot and I was able to practice and prepare for the types of questions that would appear on the actual theory test as well as the hazard perception.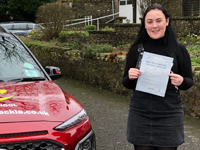 Lily Smith
Passed 1st time!
Jackie has been very patient with me learning to drive, she is a very good instructor and always finds time to fit you in. If you need any extra support Jackie will be sure to give it to you or fit you in for extra lessons. The resources that are available are very good such as the LDC Hub and the book.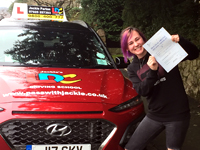 Lisa McGinley
Great test!
I started my lessons with Jackie with no understanding of a car. She talked me through everything with detail, and pictures to help me understand. She's calm and understanding if & when I panicked in a situation I didn't like and always managed to pull me out of that situation. Jackie has made me feel confident, safe & happy to drive in fog, rain & sun and in any situation on the road. Thank you Jackie, could not of done any of this without you.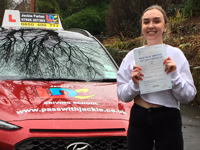 Leanna Swancott
Talk about delighted to pass!
I found My lessons really good with Jackie. She is very patient and explains what to do really well. With me I struggle doing practical work so I feel like Jackie has really helped. It's taken 3 times for me to pass but I feel like I needed it and it's helped a lot. I feel like the workbook is really very useful as it makes you re-cap on what you have done good & bad throughout the lessons. I feel like I got some bad habits from driving but Jackie helped me get through them.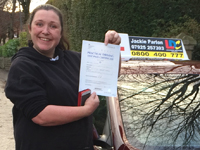 Zoe Gayes
Passed 1st time!!
AMAZING! Really supportive and Jackie has gone the extra mile to boost my confidence and help me with everything I've struggled with. Couldn't of asked for a better instructor. THANK YOU SOOO MUCH!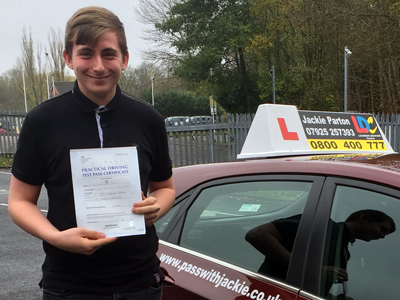 Matthew Frost
Passed 1st Time!
The LDC learning method is really good. It balances confidence with challenge for the quickest learning. Jackie was really friendly but fair in the way she taught. The website was really useful for revising both practical & theory knowledge. LDC was really useful & helped me pass.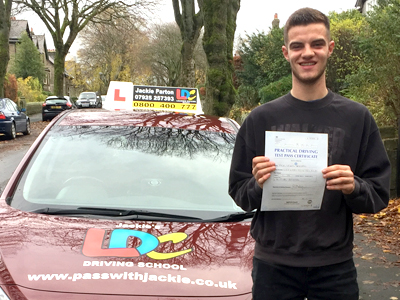 Jack Vernon
Great driver 'said the examiner'
I think that the LDC way of learning and preparing for test is very helpful and gives you a clear indication of where you are at in your learning journey, for example through the use of the master progress chart and the reflecting & planning of lessons. I like the use of pre-lesson plans & the scale system. I think 2hr driving lessons also helped a lot compared to 1hr. The LDC way of learning is a lot more structured than previous driving instructors I have had, this is shown because I failed twice with my old instructor but passed 1st time with Jackie.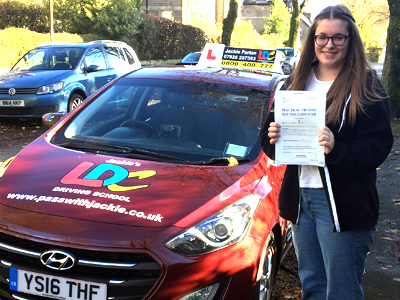 Megan Woods
Passed 1st time!
Workbook is extremely helpful and made me a lot more confident. Jackie was very patient, helpful, great with explaining things. The learning method is very helpful & explains each manouvre very well. The theory preparation is great & definitely helped me pass.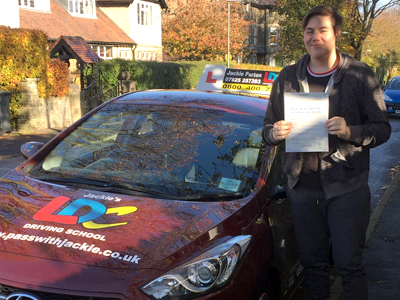 Oliver Parton
Passed 1st time!
Jackie is a great instructor as she is calm and teaches you in an efficient way in order for you to pass 1st time! The workbook is the best way to learn and recap. Jackie is great instructor because she cares about you passing as much as you do and can get along with her great.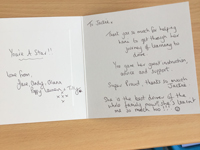 Alana Beresford
Passed 1st time in rush hour traffic!
Lots of help & good knowledge given to build my confidence in driving. LDC Workbook was really helpful & Jackie had all the lessons planned & was very organised.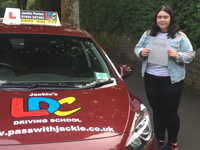 Kylie Ball
Great Drive!
Jackie was very helpful & calm whilst teaching me to drive. She pushed me to drive to the best of my abilities & always came in time. The workbook was very helpful for theory test revision and to recap before and after lessons. Would recommend jackie to everyone.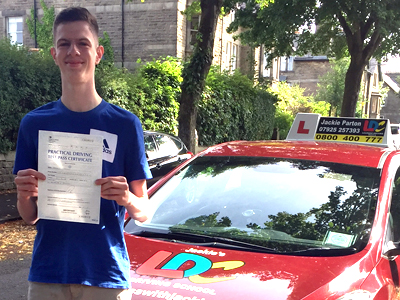 Harry Vernon
Passed 1'st time!!
The system was perfect to take me from a complete beginner all the way to test ready. The learning book and emphasis on student helps drivers to develop. All of the resources online and in the workbook helped me pass my theory first time. Jackie was patient and helped me to take me from complete beginner and always provided useful feedback and ways of learning.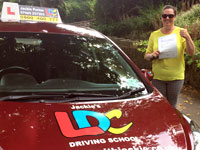 Maxine Baker
Great pass!!
Jackie is fantastic, she is very patient and understanding & her tips are brilliant to help to remember things. Couldn't have done any of it without her help & understanding. Big massive thank you!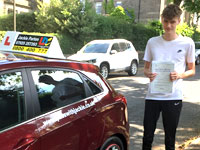 James Harris
Passed 1st time!!
Very good, I knew what I was going to be doing each lesson and reviewed how I had done each lesson, this helped me to know what I was going to be working on each lesson. Spent lots of time making sure that each part of my driving was good so when it came to the test I would pass.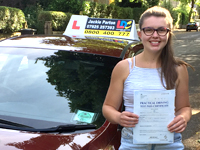 Laura Heath
Confident Drive
Jackie has been great. Lovely Instructor. Made me into a better driver & more confident towards my driving. Very grateful for what she has done. Thank you so much.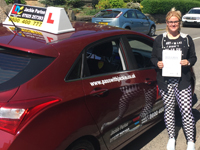 Paige Sammons
Passed 1st time!!
With only 10 hours of lessons Jackie made sure that I was to test standard. She made me feel confident & reassured me all the way. I like the student centred learning aspect of driving as it meant I could work on what I thought I needed to work on, I am very grateful to Jackie for guiding me. Looking at visual aids to describe positioning & other aspects of driving really helped. I would definitely recommend Jackie to other students.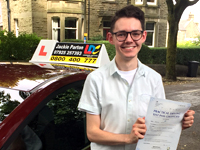 Reece Owen
Passed with only 5 Driving Faults!
Follows very structured learning course A good feedback at start and end of every lesson, very helpful in seeing in which areas improvements need to be made The workbook was very useful as I could read up on manouvers at home to practice, my instructor uses the same launguage/terms as the book, aiding learning and understanding Helpful constructive criticism, good explanation, when mistakes made, very helpful to a potentially nervous driver The diagrams are very helpful at understanding road positions etc My instructor was very nice and easy to get on with and learn from I would definitely recommend my instructor to a learner If you benefit from structured learning alike to that in school, but with more support, this is the best way to learn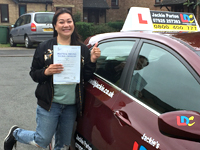 Mitchell Sitchon
Passed with only 5 Driving Faults!
Jackie was great providing me with all the necessary methods of teaching in order for me to learn and pass my driving test.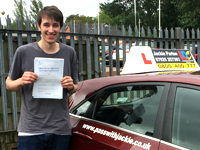 Adam Thorley
Passed 1'st time with ONLY 35 hours of lessons!
Jackie has been very patient with me and my learning process since day 1. In addition she's helped me correct any mistakes I kept making and stayed calm though it all. Every lesson I've had she was on time, if there was an issue or change of plan she let me know in advance. In the end I wouldn't ask for a better instructor who has helped me achieve this very important mile stone.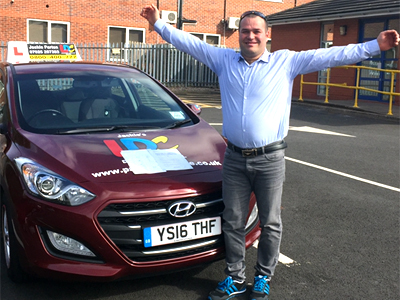 RAMAZAN KOSE
ZERO DRIVING FAULTS PASS!!
JACKIE'S GRATEFULL PERSON, GIVE ME FULL HAPPY HELPS FOR INFORMATION ABOUT MY DRIVING. THANK YOU JACKIE'S.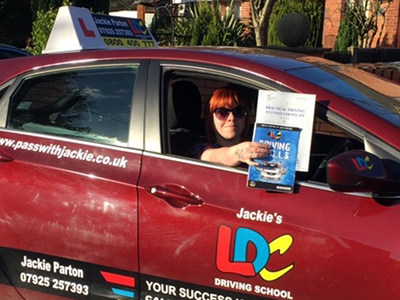 Kirsty Allen
Passed 1st Time!!
Jackie is a fabulous instructor with a patient approach. She always made me feel at ease & supported me throughout. She explains things clearly & always compliments me when deserved. I would highly recommend her to new learners. The Student Workbook has assisted me greatly throughout my lessons. It explains everything clearly & is structured well.
Call today on 07925 257393 or Email me to find out more
If you have any questions or to book lessons today, feel free to contact me