Testimonials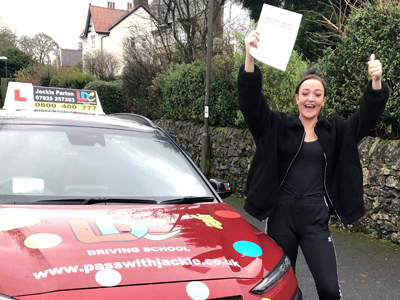 Megan Eyre
Passed 1st time!
Jackie is an amazing instructor, she made me feel at ease instantly and also never let anything slip allowing me to be the best driver possible! The workbook method was also very good in terms of a revision guide and resource booklet, it has everything in terms of driving skills and theory prep. Thank you Jackie you are the best. 😃❤️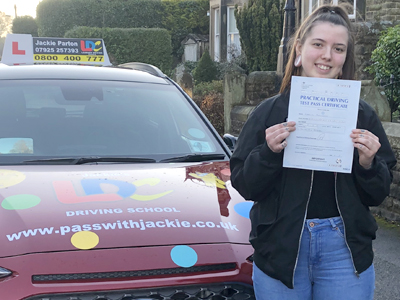 Carly Edwards
Passed 1'st Time!!
Jackie has been brilliant with me during my lessons and has been very patient & supportive. She's a fantastic instructor and I couldn't have done it without her. She's made me feel very comfortable and really helped me work n my confidence. Can't thank her enough.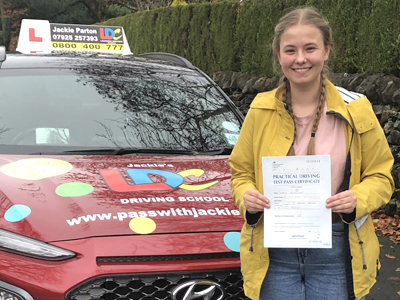 Keely Blanchard
Passed 1st time with only 35hrs of lessons!
Workbook was very useful, videos were good too. Jackie was a fantastic Instructor, I'm very glad I learnt with her. It was useful having the workbook as it meant I got to spend a larger portion of my lessons driving, which was particularly useful as I did a semi-intensive course. The lessons were well structured and I felt very confident going into test. I'm grateful to Jackie for the excellent instruction, thank you!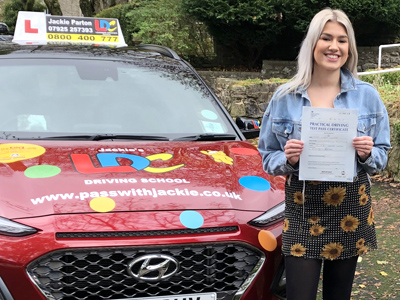 Libby Cooper
'Pass was never in doubt' said the examiner!
Jackie was amazing! Always kept me calm and very patient. I found the workbook very helpful and will continue using it even now I've passed to help with dual carriageways & motorways, as well as the videos. The online hub was essential for passing my theory. Thank you Jackie! Could not of asked for a better instructor.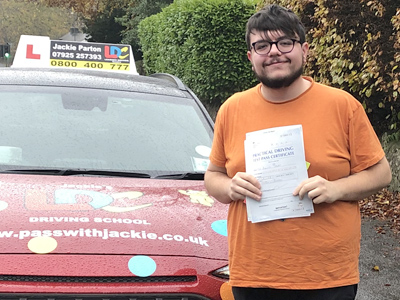 Daniel Emery
Examiner said what a great driver!
Absolutely amazing, calm, patient and gave me so much confidence and a 1 minor pass!! Couldn't recommend her more and deserves so much praise. I will recommend her to all my friends and family.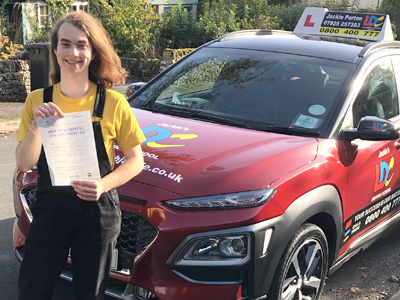 Gus Beech
Great Drive Commented the Examiner
I am more than happy with my experience driving with the LDC System. It allowed me to reflect on my past mistakes in order to improve every week which enabled me to become more confident as I learned to drive. I found the quizzes and theory and driving test prep to be helpful throughout my experience with LDC. My instructor Jackie is very professional and challenges me every lesson to always plan ahead which has improved my confidence and quality of driving.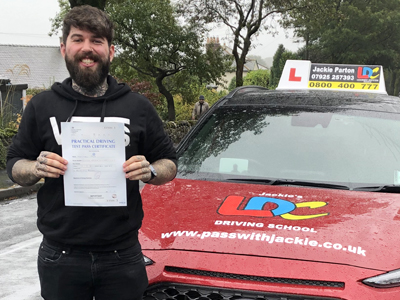 Matt Done
Passed 1st Time with only 25hrs of lessons!
I cannot give Jackie enough credit for her patience and kindness, she has always believed I could do it even when I had doubts. 100% could not recommend LDC and Jackie enough. The workbook helped so much and was handy to flip through. All in all absolutely brilliant company and person. Thank you for everything, Matt.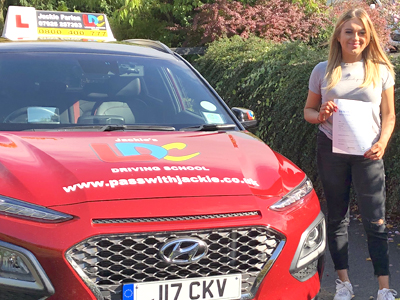 Aimee Ireland
Passed 1st Time!!
Jackie was such a brilliant instructor, from the 1'st lesson to the last one, she put me at ease and gave me confidence. Every lesson I came away with so much more knowledge and felt I was always making progress. I thought the reviews with the driving skills booklet at the beginning and end of each lesson helped, and writing in the diary aided me to remember my faults/improvements from the previous lesson. I would highly recommend LDC and especially Jackie! Wouldn't have been able to do it without her! Thank you so much Jac!!!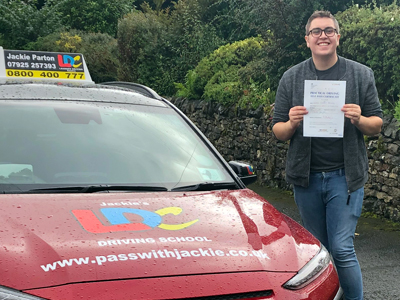 George Machin
Examiner commented on what a great drive
Jackie always worked to make sure I was calm & felt comfortable driving at all times. Her learning methods were easy to understand and her instructions were clear, and I never felt silly asking questions unlike with previous instructors. I'll definitely be recommending LDC & Jackie to friends & family.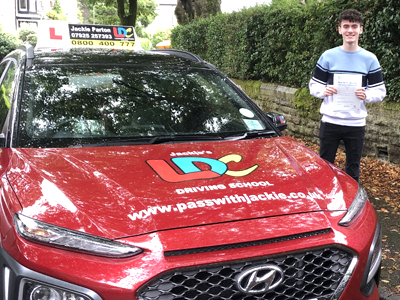 Lewis Colley
1st Time Pass!!
I think the method Jackie uses and the information LDC provides in the book are easy to understand and very helpful. Lessons are also very enjoyable and quite relaxed, which certainly minimises stress, kept my attitude positive and allowed me to get to test standard much faster.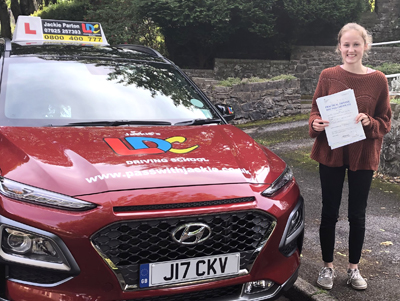 Ellie White
'Great Drive' said the examiner
I was very pleased with my driving instructor and LDC system. The book was very helpful for making progress and everything was explained very well. My instructor was always very nice & made me feel comfortable. She also made sure I understood everything which was very helpful.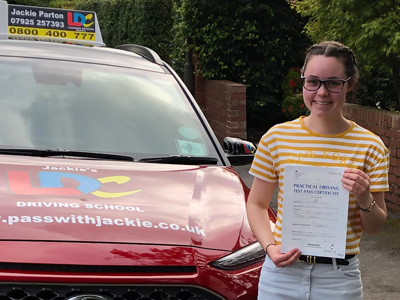 Ella Owen
My Instructor was so helpful
I like the use of the workbook, reflecting after each lesson on what I did in the lesson & things I need to improve on. The LDC Theory Test resources were extremely helpful & helped to secure my understanding of the theory test material. My instructor was so helpful, talking through things I could have improved on & how I could have done things differently, which helped my understanding of the topic.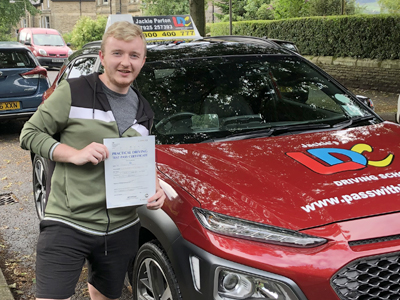 Charlie Cook
1st Time Pass!!
After numerous lessons over the last few years, I finally found the right support with not only my amazing instructor, Jackie, but also the great LDC videos on YouTube. With Jackie's fantastic support and patience I was able to pass my test 1st time. My lessons with LDC were spot on and I can't recommend them enough. Get booked in!!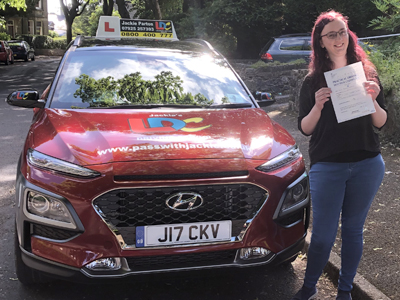 Rachel Warner
Jackie has been an amazing Instructor!
Jackie has been an amazing instructor. She has been patient and always took things at my pace. She has made me feel confident even when at some points I was nervous, and I would recommend her to anyone. The LDC system is a very useful way of reflecting on your progress and deciding where to go next and the book is very helpful.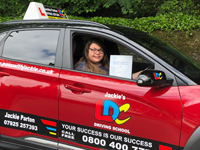 Faye Newman
Happy & Safe Driving Future
Jackie has not only provided me with the skills to pass my test with only 3 minors but she has given me the emotional support to continue learning when my nerves got the better of me. Using the workbook helped me feel more in control of my learning and really work on areas I felt less confident. These combined have given me the ability to not only pass but to have a happy and safe driving future.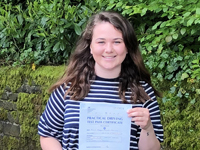 Megan Smith
Passed 1st Time!!
Jackie is an amazing instructor. She was always very patient and calm if I made mistakes, showed me how to correct them. She made sure I was fully prepared to do my theory test and gave me resources to help me get prepared for it. Jackie also made sure I felt confident with everything for my driving test and went over things I was unsure of. I would recommend jackie as an instructor to anyone.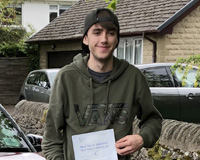 Will Crombie
Great Drive!
From the beginning I never thought I'd be able to drive, but as time went on with my lessons I realised that I could actually do it! I used the LDC YouTube videos for lesson topics to help me prepare for my lessons so that I knew what to expect. Jackie was always on time for my lessons, I would recommend her to my friends.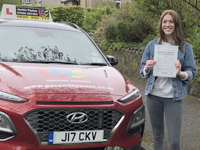 Lucy Hancock
Passed 1st time!!
I think the lessons with my instructor went really well and made me feel really confident when going into test. The workbook helped me see my strengths but also areas that I needed to work on in order to get to test standard. The theory test preparation resources made me feel prepared and confident to take the test with no worries. Jackie has been an amazing instructor and has made driving lessons fun and stress free!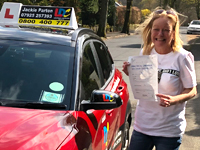 Jo Simpson
Believe you CAN pass!
Jackie has been amazing, her patience and understanding is second to none. When I had no faith in myself Jackie never lost it, seeing me finally through a pass. Thank you Jackie, your a credit to LDC 😀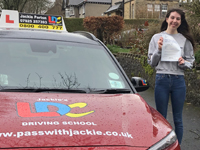 Isobel Mellor
Passed 1st Time 'in Storm Gareth'
Jackie is extremely good and is very thorough in teaching each topic. The workbook is good and helps me understand generally what to do before the lesson. The preparation for the theory test online helped me a lot and I was able to practice and prepare for the types of questions that would appear on the actual theory test as well as the hazard perception.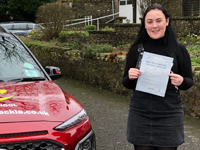 Lily Smith
Passed 1st time!
Jackie has been very patient with me learning to drive, she is a very good instructor and always finds time to fit you in. If you need any extra support Jackie will be sure to give it to you or fit you in for extra lessons. The resources that are available are very good such as the LDC Hub and the book.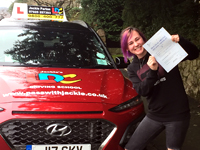 Lisa McGinley
Great test!
I started my lessons with Jackie with no understanding of a car. She talked me through everything with detail, and pictures to help me understand. She's calm and understanding if & when I panicked in a situation I didn't like and always managed to pull me out of that situation. Jackie has made me feel confident, safe & happy to drive in fog, rain & sun and in any situation on the road. Thank you Jackie, could not of done any of this without you.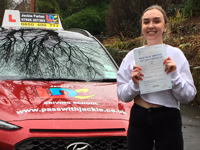 Leanna Swancott
Talk about delighted to pass!
I found My lessons really good with Jackie. She is very patient and explains what to do really well. With me I struggle doing practical work so I feel like Jackie has really helped. It's taken 3 times for me to pass but I feel like I needed it and it's helped a lot. I feel like the workbook is really very useful as it makes you re-cap on what you have done good & bad throughout the lessons. I feel like I got some bad habits from driving but Jackie helped me get through them.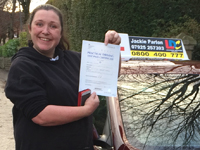 Zoe Gayes
Passed 1st time!!
AMAZING! Really supportive and Jackie has gone the extra mile to boost my confidence and help me with everything I've struggled with. Couldn't of asked for a better instructor. THANK YOU SOOO MUCH!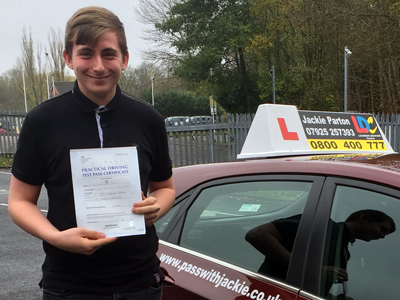 Matthew Frost
Passed 1st Time!
The LDC learning method is really good. It balances confidence with challenge for the quickest learning. Jackie was really friendly but fair in the way she taught. The website was really useful for revising both practical & theory knowledge. LDC was really useful & helped me pass.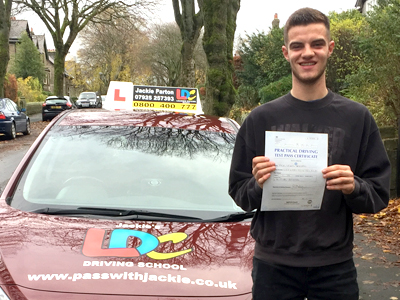 Jack Vernon
Great driver 'said the examiner'
I think that the LDC way of learning and preparing for test is very helpful and gives you a clear indication of where you are at in your learning journey, for example through the use of the master progress chart and the reflecting & planning of lessons. I like the use of pre-lesson plans & the scale system. I think 2hr driving lessons also helped a lot compared to 1hr. The LDC way of learning is a lot more structured than previous driving instructors I have had, this is shown because I failed twice with my old instructor but passed 1st time with Jackie.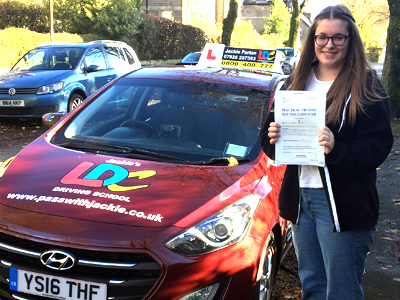 Megan Woods
Passed 1st time!
Workbook is extremely helpful and made me a lot more confident. Jackie was very patient, helpful, great with explaining things. The learning method is very helpful & explains each manouvre very well. The theory preparation is great & definitely helped me pass.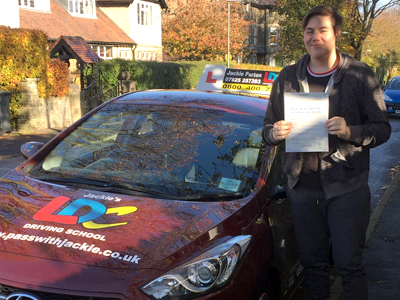 Oliver Parton
Passed 1st time!
Jackie is a great instructor as she is calm and teaches you in an efficient way in order for you to pass 1st time! The workbook is the best way to learn and recap. Jackie is great instructor because she cares about you passing as much as you do and can get along with her great.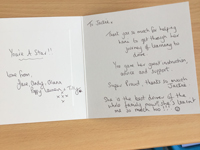 Alana Beresford
Passed 1st time in rush hour traffic!
Lots of help & good knowledge given to build my confidence in driving. LDC Workbook was really helpful & Jackie had all the lessons planned & was very organised.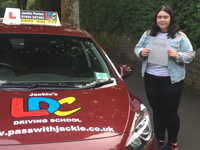 Kylie Ball
Great Drive!
Jackie was very helpful & calm whilst teaching me to drive. She pushed me to drive to the best of my abilities & always came in time. The workbook was very helpful for theory test revision and to recap before and after lessons. Would recommend jackie to everyone.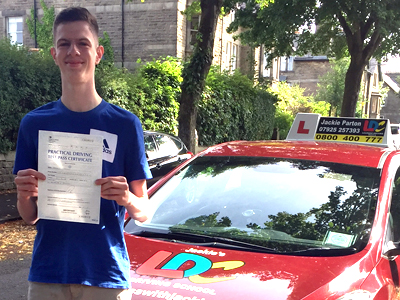 Harry Vernon
Passed 1'st time!!
The system was perfect to take me from a complete beginner all the way to test ready. The learning book and emphasis on student helps drivers to develop. All of the resources online and in the workbook helped me pass my theory first time. Jackie was patient and helped me to take me from complete beginner and always provided useful feedback and ways of learning.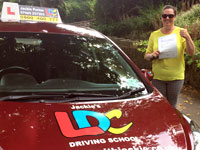 Maxine Baker
Great pass!!
Jackie is fantastic, she is very patient and understanding & her tips are brilliant to help to remember things. Couldn't have done any of it without her help & understanding. Big massive thank you!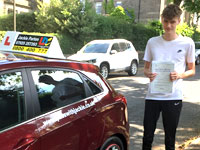 James Harris
Passed 1st time!!
Very good, I knew what I was going to be doing each lesson and reviewed how I had done each lesson, this helped me to know what I was going to be working on each lesson. Spent lots of time making sure that each part of my driving was good so when it came to the test I would pass.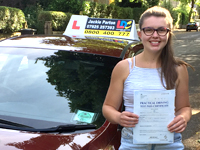 Laura Heath
Confident Drive
Jackie has been great. Lovely Instructor. Made me into a better driver & more confident towards my driving. Very grateful for what she has done. Thank you so much.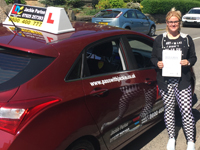 Paige Sammons
Passed 1st time!!
With only 10 hours of lessons Jackie made sure that I was to test standard. She made me feel confident & reassured me all the way. I like the student centred learning aspect of driving as it meant I could work on what I thought I needed to work on, I am very grateful to Jackie for guiding me. Looking at visual aids to describe positioning & other aspects of driving really helped. I would definitely recommend Jackie to other students.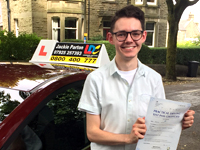 Reece Owen
Passed with only 5 Driving Faults!
Follows very structured learning course A good feedback at start and end of every lesson, very helpful in seeing in which areas improvements need to be made The workbook was very useful as I could read up on manouvers at home to practice, my instructor uses the same launguage/terms as the book, aiding learning and understanding Helpful constructive criticism, good explanation, when mistakes made, very helpful to a potentially nervous driver The diagrams are very helpful at understanding road positions etc My instructor was very nice and easy to get on with and learn from I would definitely recommend my instructor to a learner If you benefit from structured learning alike to that in school, but with more support, this is the best way to learn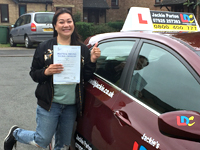 Mitchell Sitchon
Passed with only 5 Driving Faults!
Jackie was great providing me with all the necessary methods of teaching in order for me to learn and pass my driving test.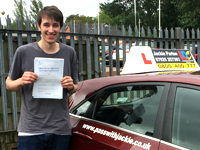 Adam Thorley
Passed 1'st time with ONLY 35 hours of lessons!
Jackie has been very patient with me and my learning process since day 1. In addition she's helped me correct any mistakes I kept making and stayed calm though it all. Every lesson I've had she was on time, if there was an issue or change of plan she let me know in advance. In the end I wouldn't ask for a better instructor who has helped me achieve this very important mile stone.
RAMAZAN KOSE
ZERO DRIVING FAULTS PASS!!
JACKIE'S GRATEFULL PERSON, GIVE ME FULL HAPPY HELPS FOR INFORMATION ABOUT MY DRIVING. THANK YOU JACKIE'S.
Kirsty Allen
Passed 1st Time!!
Jackie is a fabulous instructor with a patient approach. She always made me feel at ease & supported me throughout. She explains things clearly & always compliments me when deserved. I would highly recommend her to new learners. The Student Workbook has assisted me greatly throughout my lessons. It explains everything clearly & is structured well.
Call today on 07925 257393 or Email me to find out more
If you have any questions or to book lessons today, feel free to contact me